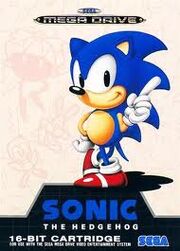 Sonic the Hedgehog
(ソニック・ザ・ヘッジホッグ) is the first game in the long-running series by video game publisher and former console maker Sega. First released in the United States and Europe on June 23rd, 1991, it was the premier outing for the character of Sonic The Hedgehog
and the group behind his creation, Sonic Team. Though the game only received marginal success in its home country, almost overnight
Sonic
became a sensation in the West, solidifying Sega's place in Europe and turning the company into a household name in the United States.
For the first time, a company was able to directly compete with console and gamemaker Nintendo, which had dominated the second half of the 1980's. Though Nintendo still reigned supreme in Japan, the highly-contested 16-bit war in the West was a marvel to behold, the big two being neck and neck through almost the entirety of the third generation of console gaming.
The game propelled the creators into the realm of video game superstardom, programmer Yuji Naka for a time becoming the face of Sega much as Shigeru Miyamoto became the face of Nintendo after the success of Super Mario Bros. The franchise took off, with a version of the game being released on the Sega Master System and a series of sequels across Sega's various consoles over the years. It not only became the definitive title for the system and replaced Altered Beast as the pack-in title for the West, but would go on to be ported to no less than twenty platforms after its initial release.